Description
Modules
Brochure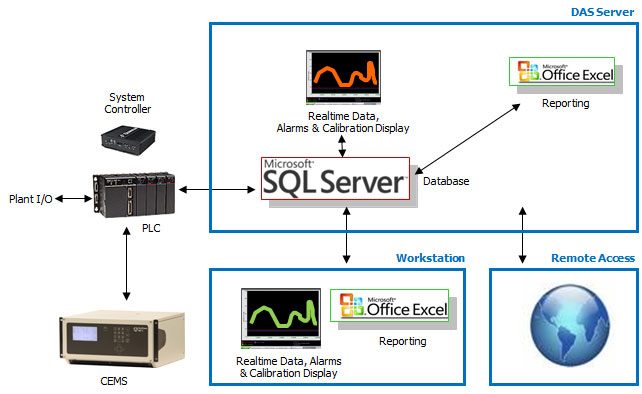 -- User-friendly, state-of-the-art software for emission compliance and regulatory reporting
-- Modules include real-time displays, alarm monitoring, regulatory reporting, cylinder gas management, data analysis and historical data querying
-- High availability architecture, redundant data locations and smooth failure recovery
-- Enterprise-grade Microsoft SQL Server database, rock-solid and automatic backup
-- No proprietary data loggers; system based around standard computers and PLCs using Ethernet and Modbus protocols
-- Client-server architecture with total remote access
-- Unlimited, user-configured real-time display screens (strip-charts, tables and Excel charts)
-- Software designed to meet State and Federal regulations including Part 60 and Part 75
-- Library of standard reports (Excel format) which can be easily modified to meet customer requirements. Library includes Simple and Filtered Query, System Downtime, Monthly Summary, Calibration Values, Alarms, Invalid Hour, Opacity Matrix, CGA/Linearity, Excluded Data and EPA Quarterly Excess Emission
-- Inbuilt system security to control user access to various modules

Real-Time Displays
Cemtrac3 includes text and graphic screens that display process parameters on a continuous real-time basis. Real-time strip charts can also be created for various parameters. An unlimited number of real-time screens can be created and customized as part of the plant offering. The screens are based on an Excel spreadsheet and allow for easy customization and modification.
Alarm Monitoring
On a continuous real-time basis, the system will display alarms related to exceedances or other reasons (for example, disruption in network transmission resulting in delayed data). The program can create an audible alarm. Reason and action codes are required for acknowledgement of alarms.
Calibration Results Display
On a continuous real-time basis, the daily calibration results are displayed. Color coding is used to indicate failed calibrations.
Regulatory Reports and Queries
The Cemtrac3 reporting interface is flexible allowing for additional reports to be included. Standard reports (Excel based) include parameter values (one minute, 15-minute, hourly and daily averages), daily summary, calibration, downtime, and alarm reports. In addition, custom reports can be easily created depending upon site-specific requirements. Reports can be automatically generated on a specific time schedule.
Historical Data Values Retrieval
A user-friendly interface allows easy retrieval of various parameters from different units. The data can be plotted and also saved in Excel format.
Calibration Cylinder Management
This program allows the user to keep track of the calibration cylinder inventory. Existing cylinder information can be displayed, edited and new cylinder information can be added.
System Configuration
Cemtrac3 allows the system administrator to access system parameters related to alarm reason and action codes, alarm levels and security parameters (user privileges and program access). This information can be displayed, edited and new information can be added to the database.